In today's world of internet it is very easy to access all the information you need with just a click, you can socialize with people easily and many more but all good things come with a disadvantage. There are many illegal and unwanted sites available on internet which are not safe for children which is great concern for parents as kids today have easy access to all these things. Also it is important to know where your child is going as the world outside is not so safe. Likewise business owners are also concerned as many times employees waste their time on smartphones or go here and there and company work suffers.
So, what is the solution for all these problems??? Well, I will be reviewing here a phone monitoring software called FoneMonitor which is the most reliable solution for all the above problems.
What is FoneMonitor?
FoneMonitor is a reliable spy software for Android and iOs devices which you can use to keep a track on your child's and employee's smartphone activities. It is very easy to use too, you just need to create an account and then install FoneMonitor app on the targated device and that's it!!. You can keep track on messages, calls and many more activities by logging in on your phone's or PC's web browser. But you should always use this ethically and not for spying on someone's personal chats or calls. Below i will explain in detail how to use it and what you can track using this amazing software.
Key Features of FoneMonitor:
With FoneMonitor you can track 39 types of data from targeted smartphone. Some of the core features are listed below:
1. SMS & Contacts
FoneMonitor lets you read all the messages or iMessages exchanged over the targeted device and you can also download exchanged MMS and messages sent through apps like WhatsApp and Viber as well.
It is also important to know that with whom your child is in contact with, but with help of this app you can easily see the contact list of smartphone and even download it for your use also.
2. Call History
While spying a device call history is the most important thing. With FoneMonitor installed on a device you can get the complete list of dialed and received calls on dashboard.
3. GPS Location
FoneMonitor lets you track the exact location of the target as well as its previous locations and route. For your child's safety you can even mark some locations and whenever the device enters that location you will receive an alert.
4. Photo & Video
Using FoneMonitor you can also view the saved photos and videos on the targeted device and easily keep an eye on what your kids are watching.
5. Browser History & Bookmarks
There are many unwanted and illegal websites running over the internet which are not at all safe for the kids. Now using FoneMonitor you can spy over all the online activities and know what your kids are searching, reading, downloading, watching or listening over the device's browser. It supports all the browsers and shows detailed browser history with time and frequency of visiting a website. It even shows the bookmarked websites on the targeted device.
6. Social Apps
Monitoring the apps installed on the device is very important as many employees waste their time on social or dating apps or even play games during work. FoneMonitor shows you number of installed apps and spy them. You can keep an eye on your child's social media accounts and see what they are sharing or with whom they are chatting. You can even download photos from installed apps.
7. Capture Screenshot
Using FoneMonitor you can capture screenshot of the active device to track what they are doing at that time. You can use it to show your employee or child to make them realize their mistakes.
8. Call Recording
All the dialed and received calls get automatically recorded on your account and you can even get information about the call time, call duration and contact details of caller.
9. Keylogger
Keylogger records all the input data that is done by user as encrypted log files.
Along with above data you can also monitor calendar, reminders and read memos. This means you can completely track Android and iOs devices with FoneMonitor.
How to Use FoneMonitor:
Setting up FoneMonitor account and spying the target device is very easy and straightforward. Here I will show step by step how to use this app.
Step 1.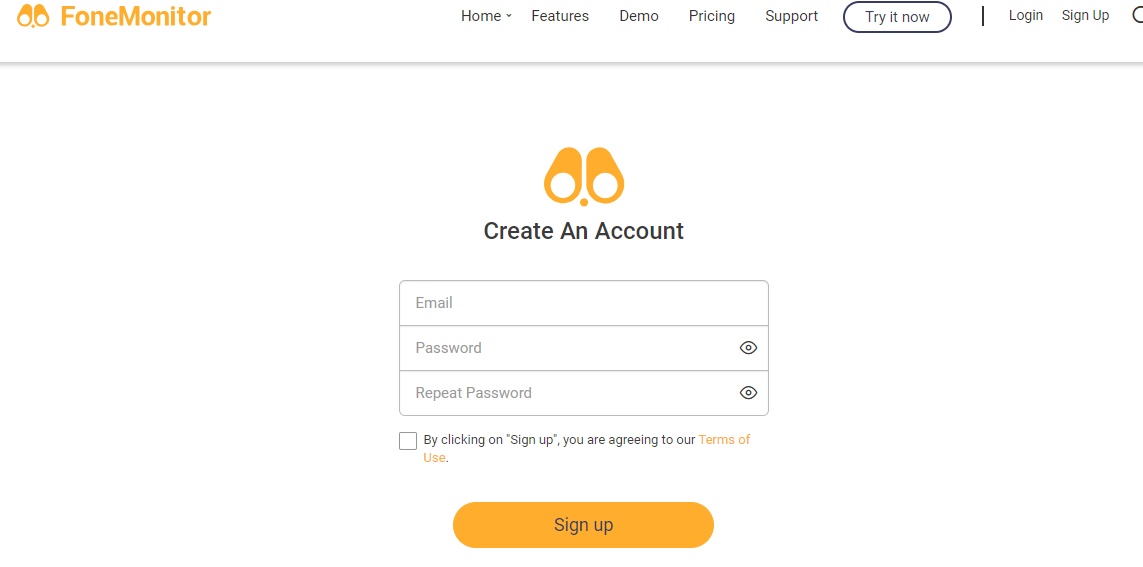 First you have to Register on FoneMonitor's website by clicking on Sign Up. It will ask your e-mail and your desired password, fill it and click on Sign Up. Once it is done you will have to fill some information like OS of targeted device, name of the device and age of target. Fill all the information and you are done with registering process.
Step 2.
Now, once you have an account you have to install FoneMonitor App on targeted device to verify it. For this you have to visit fonemonitor.net from the device's browser and download APK file. Before installing for to phone's Settings>>Security and check Unknown Sources.
If it is an iOs device you need to verify the iCloud account used on the device. One its done launch the APK file and follow on-screen instructions. Now, log in on it using your FoneMonitor account credentials and click on Start Monitoring. Once you click it the app will be hidden without any root and your target will never come to know about it.
Step 3.
Now whenever you want to monitor the target device just visit fonemonitor.com from your PC, Tablet or Phone and log in with your account and you will see a dashboard where you can easily track any of the data about the Android or iOs device.
You can even take a demo for both Android and iOs devices on FoneMonnitor's website so you can easily understand how dashboard works before buying it.
Current Price and Plans:
FoneMonitor has Premium and Ultimate Editions which have slight price differences and three subscription options. In Premium Edition 1-month subscription is priced $29.99 instead of $39.99 as currently a discount is going on. 3-month subscription is available at $39.99 and yearly subscription at $89.99.
Ultimate Edition enables you to completely track the device and after $10 discount it is currently priced $39.99 for 1 month, $49.99 for 3 month and $99.99 for yearly subscription.
Why to Choose FoneMonitor?
FoneMonitor is very reliable as compared to other spy softwares and it can be easily installed just like any other app without rooting or jail-breaking device. The dashboard for monitoring devices is very neatly organised which again makes it user-friendly. The price for this software is also very reasonable and can be afforded easily by a concerned parent or businessman.
It is overall the best package currently available in the market which is compatible with all the Androis and iOs devices. Also you will get 24/7 live chat and e-mail support on their website.
FoneMonitor is designed for legal use only and once again i am repeating that it should not be used to spy on other peoples private calls or messages and should be used on your employee's phone with their consent only. However, in case of your children you better know what is right.
If you are still unsure about buying it just take a demo on FoneMonitor's website and I am sure you will absolutely love it.